Save $100 over purchasing each product in the system separately

---

"This system doesn't just light up your horse like a Christmas tree, it makes it obvious to drivers and other road users that it IS a horse. And that makes all the difference in the world."
Christine Williams
"It is just an amazing set of lights."
Check out customer Sharon Ziegler's video review of the HorseViz360 Light System:

The light system that instantly shows you're on a horse...
---
Because being seen is a lifesaver
---
When other road users don't just see lights, but immediately see those lights are on a horse, it gives time to react safely.
The tail light illuminates the horse's tail, moving with it. Frhe browband shows the movement of your horse's head in relation to the breastplate. Together, they light the biomechanics which show other road users this is a horse.
Accidents are more likely riding horseback than riding a motorcycle. Cut those risks with HorseViz360TM today.
Comfortable for horse and rider
---
Featuring ergonomic velcro and well-designed attachment points, every aspect of the HorseViz360TM lights is tailored to ensure the horse's comfort and rider's ease of use.
Eye-catching for traffic from any direction, the lights don't alarm the horse wearing them.
They also come with different modes, so you can choose between solid light, rapid flash or slow flash.
Amazing looks, brilliant fun
---
Let's face it, the HorseViz360TM light system isn't just brilliant for safety, it's great fun, too.
It's going to look fantastic on your horse whether you're out on roads and trails or whether you're at a rodeo, fairground or parade.
It also makes the ideal gift for horse-owning friends.
Ensures other road users see you at night
Instantly shows you're riding a horse
Maximises visibility from all angles
Looks amazing wherever you're riding
Easy to fit & comfortable for your horse
The HorseViz360 Light System is built to last
Save $100 over purchasing each item in the system separately

---

"I never ride at night now without these lights. They look cool, they're great for safety, they don't spook my horse, and they're really robust."
Gemma Dean
---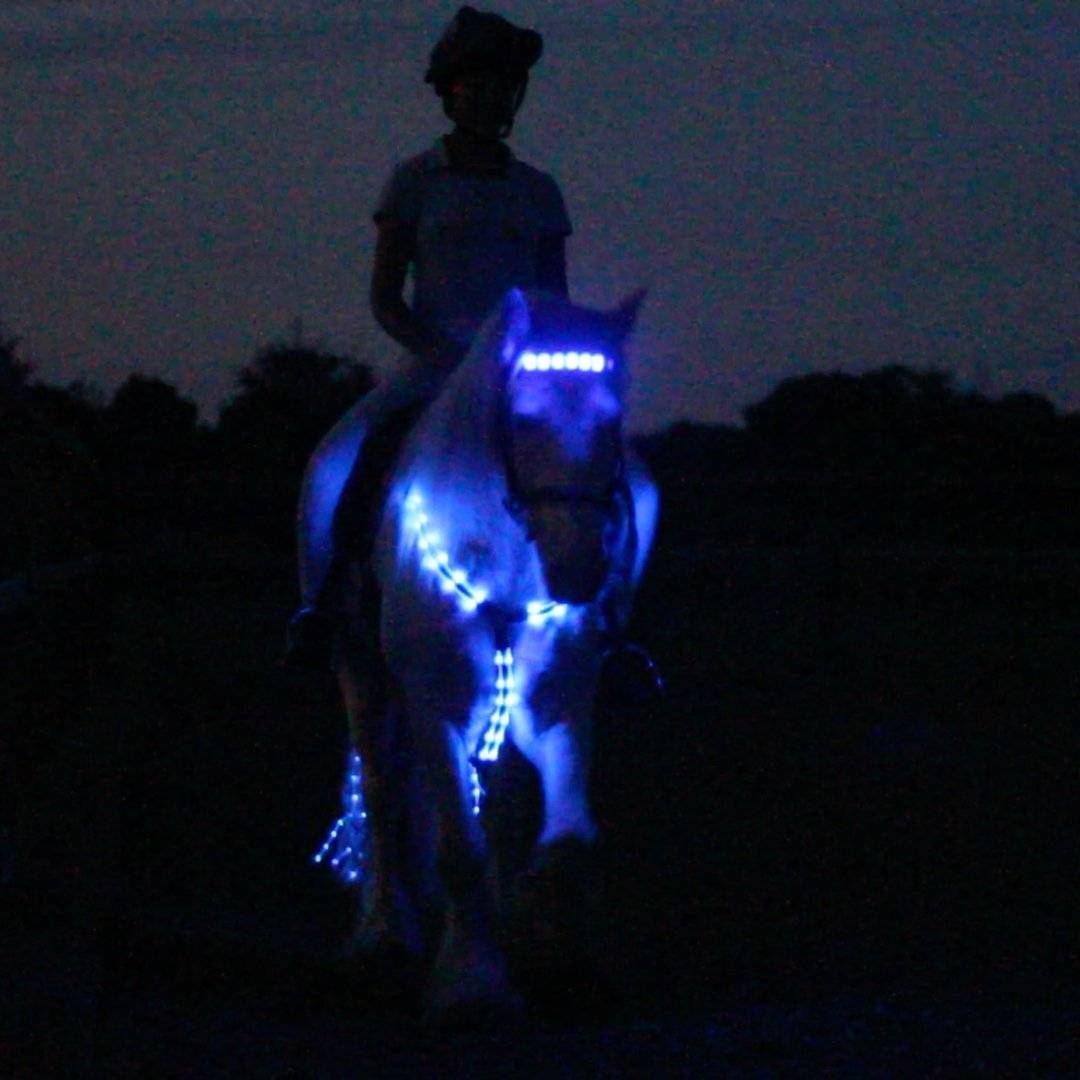 All products in the HorseViz360TM Light System feature three settings - solid light, rapid flash or slow flash.
Robustly constructed using polyester webbing, the breastplate has a line of LED lights on each strap. Also made using high-quality polyester, the browband measures approximately 34cm and features a bright reflective strip with a single row of super-bright LEDs. Each tail lights unit features five 100cm LED strands.
The LED breastplate and LED browband run on CR2032 button batteries, with a normal continuous runtime of 60-80 hours. The tail lights use a USB-rechargeable 120 Ma polymer lithium battery, with a run-time of approximately three hours when set to solid light.
These 3 products form the HorseViz360 Light System
Save an EXTRA 50% when you buy the full system (while supplies last)
---
---
---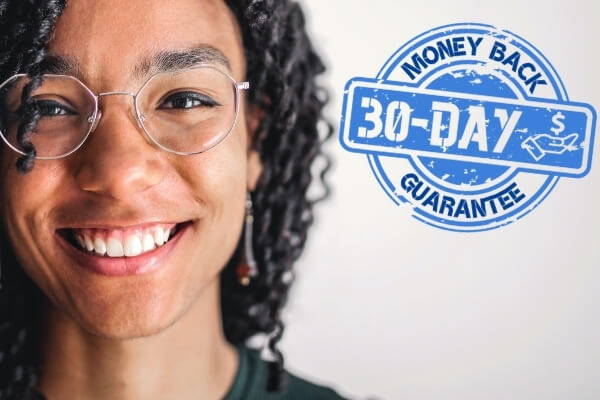 We're so confident that you'll love our products, we back them with a rock solid 30-day money-back guarantee.
Buy today and enjoy our 30-day money-back guarantee completely risk-free. Just follow our money-back guarantee protocol for a full refund.
---
Save $100 over purchasing each product in the system separately

---

"This system doesn't just light up your horse like a Christmas tree, it makes it obvious to drivers and other road users that it IS a horse. And that makes all the difference in the world."
Christine Williams
---
---

"This is an amazing product! Absolutely LOVE it. The horses are 100% cool with it, even my mustang that spooks at everything. Comes with everything it needs, no more, no less. Seemingly waterproof as I have ridden in the rain without any issues. Don't flinch at the price because a normal breast plate can cost into the hundreds; that being said, if you normally ride with a breast plate, use this on top of that. So far zero complaints or problems with this product. Now I can check the mail in the dark! (I ride my horse to my mailbox and these LED lights are HONESTLY A LIFE SAVER, now drivers are able to see me and slow down). I give this 10 A+ stars. Every rider should have one, for the safety of their horse and themselves. Now I ride without fear!"
Alice Hall

1 SEP 2022, 16:40
---

"VERY easy to install. Lot of lighting choices. Only wish is a clip on the bottom strap (tie down). The 2 d-ring clips make this so easy."
Marc Richardson

13 MAR 2022, 16:32
---

"Great! Very good for when it gets a bit overcast or dark. Survived in light rain as well so I'm pleased. Give us that little bit of extra confidence when hacking alone. Will be interesting to see how long they last. But quality is good so far."
Vikki Backhurst

26 MAY 2022, 19:51
---

"Get these lights - they're great! I haven't seen anything quite like this on the market before."
Roger Campbell

02 JAN 2022, 05:15
---

"Notes to fellow riders considering this purchase: buy it! You'll be happy with it. Take it from someone who has a whole footlocker full of reflective gear for her horse. I've tried it all and this is my new favorite."
Polo Mare

27 AUG 2022, 20:33
---

"Very well made, safe to use, the breastplate is adjustable and doesn't rub the fur off. I have a 28 year old mare and she gets perky and struts around like a queen when the lights are turned on. The first time I put them on, I rode her back to the paddock - and usually she can't wait to get in and have dinner. But with the collar lights on, she decided she wasn't ready for dinner and she wanted to go on parade and made a few more rounds. She's wanted to show off to the neighbors and such. I really think she loves it because when the lights are off, she parks at the gate and just wants her dinner. I like them as well - it gets dark early and the light provide a nice glow, and folks can see where we are in the dark from 100 - 150 ft away (and probably further away too, but we haven't tested the range), which is very nice for safety purposes. These are great and I bought a second set for trail rides."
Teresa Wright

06 MAY 2022, 21:04
---

"Love. Love. Love!!!!! Great for night rides."
T Follett

20 FEB 2022, 18:18
---

"Love it."
Edwin Harris

14 JAN 2022, 22:01
---

"As a member of our state's mounted search and rescue unit, I wanted to make my horse and I as visible as possible to lost hikers and fellow searchers when riding in the back country. These lights are fantastic for riding at dawn/dusk or for night rides, especially if you are riding on roads. They have three settings, on all the time, slow flashing, and fast flashing. Worth the money, and the added visibility could literally be a lifesaver."
Jenny Winchester

21 AUG 2022, 13:18
---

"They work and look great, I love them! Had a ton of compliments on them from people and our night ride was much safer. I highly recommend them!"
Theresa Jay

01 MAY 2022, 12:22
---

"Returning from trail rides and walks after dark, often drivers who cannot see or are reckless are your biggest threat. A blue light will always reflexively cause drivers to slow! IÍve heard vehicles accelerating toward us even with headlights and other breast collar lights but as soon as my blue light blinks on they slow."
Just Me

3 APR 2022, 17:11
---

"These lights are great for night riding. They are very adjustable. The largest adjustment fits my 17hh Percheron great. A number of boarders at my barn have them for a variety of horses."
Anne A

5 JAN 2022, 21:39

---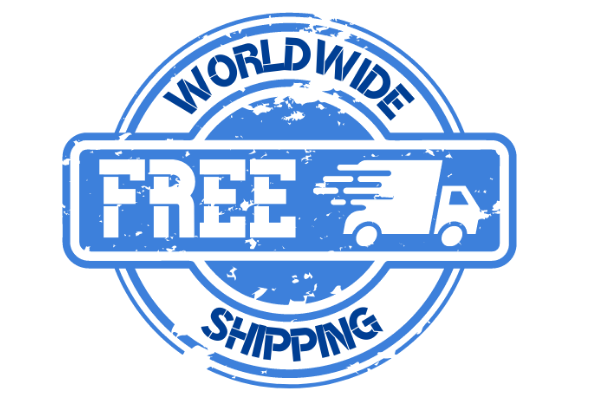 * We provide Free Worldwide Shipping
* Due to high demand, please allow 3-5 days for order handling
* The pandemic may cause shipping delays in some locations, but wherever you are, we will get your order to you as fast as possible.